Point and Figure Methodology for Investing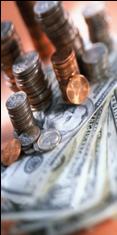 Solomon Investment Group Inc. is a unique firm that offers a host of products to its' clientele. We have years of market experience as well as an incredible network of associates to help you with all of your financial needs.
We base our investing advice on the Point and Figure Methodology.
A point and figure chart is used for technical analysis of securities. Unlike most other investment charts, point and figure charts do not present a linear representation of time. Instead, they show trends in price. By utilizing this data we can determine when demand is in control, hence when to buy, but more importantly, when supply is in control and when you need to sell.
The aim of point and figure charting is to filter out the "noise" (unimportant price movement) and focus on the main direction of the price trend.
Point and figure charts are usually used for longer term price movements, having said that, they can also be used to trade by clearly identifying the key points of supply and demand. They are very effective at keeping you on the right side of the market. Point and figure charts can do a really good job to spot very good trading opportunities on a trade and trend market.
We use this vital information in conjunction with fundamental analysis to reduce the risk in our portfolios. We watch for trends and changes in trends to reduce the overall risk that our clients are subject to in the markets.